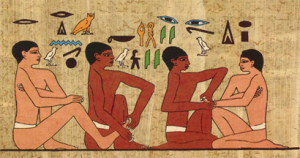 Massage Therapy is one of the oldest forms of medical care dating back to ancient and medieval times. Archaeological evidence of massage has been found in many ancient civilizations including China, India, Japan, Korea, Egypt, Rome, Greece, and Mesopotamia. BC 2330: The Tomb of Akmanthor also known as "The Tomb of the Physician" in Saqqara, Egypt depicts two men having work done on their feet and hands, presumably massage.
Massage is one of the original forms of primary medicine being that it is a common instinctual behavior for us to massage/rub an injury on ourselves or to love ones.
At Renew Wellness we offer a wide range of styles and modalities including traditional, modern and the integration of both.